ETDS stands for "European Tournament for Dancing Students" and describes tournamens which take place twice a year (at whitsun and in autumn). About 450 participiants come together and compete in latin and ballroom dancing in three breitensport classes and the "open" class for former breitensport members.
The whole event starts on Friday evening with a blind date party (if you want to dance with someone else than your usual partner) and ends on Monday morning with the breakfast. During the event, there are the tournaments, a theme party and a ball with the award ceremony. Usually the participiants sleep in a sports hall. [more...]
Rules
Who may take part?
Students, people belonging in any way to a university and/or people who attend a dance course at the university can participate. Same-sex dancers are welcome.
The members of a formation who compete in the lowest (formation) class of their region are allowed to dance in the breitensport tournaments.
Dancers who own (or ever have owned) a so-called starting book from the German D-class on, members of the Dutch Nieuwelingen in ballroom resp. C-class in Latin, dancers who have (ever) competed at Intermediate level or above on the English Open or University circuit or (international) the like are not allowed to dance in the breitensport section. No matter in which discipline they have owned it.
The tournaments for the open class aim at intensely training members of dance clubs or other enthusiastic dancers. The ETDS shouldn't be regarded as an alternative to club tournaments or the like in order to stand out by brilliant performances at any cost. Among others, we promote a blind date for the "open" dancers. However, not wanted: "open" couples from one and the same city/town and of course coples from different cities/universities, which belong together nevertheless.
Clothing Rules
In order to sustain/maintain the character of breitensport, the following dress code is obligatory (also for the open class):
Only clothes bought off the rack are allowed.
Tailor-made pants, tops and dresses are strictly forbidden!
no feathers, rhinestones or excessive glitter
Please bring dance shoes (no outdoor shoes/shoes with rubber sole); heel protectors are obligatory for lady's shoes!
The decision of whether or not dancers adhere to the dress code is made by the organizing commitee. The comittee reserves the right to permit participation in the tournament only with adequate clothes.
Tanzmaus Rules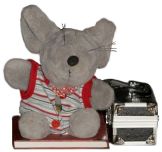 Every couple gets one point for every beaten couple in all breitensport sections.
Every couple gets two points for each round they danced (except the qualification round).
The points from all couples of a team are accumulated and divided by the number of starts for that team.
Blind-date couples receive the points pro rate for their teams.
After that division, a team will lose five points for each couple, being a blocked or no blind-date couple, dancing in the open class.
A team represents one or more cities and has to have a minimum of five starts.
Example:
The University of Maushausen arrives with four participants: Mickey Mouse, Minnie Mouse, Diddl and Speedy Gonzales.
Mickey and Minnie dance in the professional class in ballroom, they reach the third round and the 14th place out of 35 couples in their class. Because of the qualification round, they bet all the 32 couples from the amateur class. So they receive 32 points (all amateurs) + 21 points (beaten professionals) + 3*2 points (three rounds) = 59 points.
Diddl dances blind date with someone from Katzstadt and she wins the ballroom amateurs, having danced four rounds. So Maushausen and Katzstadt both receive (31+4*2)/2 points = 19.5 points.
Speedy does not dance on the first day.
On the second day, Mickey and Minnie dance the professional class in Latin; let's say they receive 65 points.
Speedy and Diddl dance the open tournament together. They don't receive points, but being not a blind-date couple, they receive a deducation of five points for their team.
Maushausen gets 59 points (Mickey and Minnie, ballroom professionals) + 19.5 points (Diddl, ballroom amateurs) + 65 points (Mickey and Minnie, latin) = 143.5 points. This will be divided by the number of couples having started in the breitensport section. That was two and a half (the half one was Diddl). The result is 65.25 points. But... the deducation for Diddl and Speedy (5 points) in the open class has to be considered. So the final calculation for Maushausen is 62.25 points.
Unfortunately, Maushausen does not have five started couples, they just have 2.5 started couples. That's not enough for the Tanzmaus calculation. So they decide to team up with Hundefeld and Fischfurt on Friday.