ETDS stands for "European Tournament for Dancing Students" and describes tournamens which take place twice a year (at whitsun and in autumn). About 450 participiants come together and compete in latin and ballroom dancing in three breitensport classes and the "open" class for former breitensport members.
The whole event starts on Friday evening with a blind date party (if you want to dance with someone else than your usual partner) and ends on Monday morning with the breakfast. During the event, there are the tournaments, a theme party and a ball with the award ceremony. Usually the participiants sleep in a sports hall. [more...]
News
Lost & Found, 2nd June 2007
We found a lot of stuff. So please take a look at the Lost&Found page.
Results are online, 28th May 2007, 02:24
You'll find them under Results
Registration closed, 15th May 2007
It's not possible to add or remove participants anymore. Please take a further look at the locations page for an updated approach description (the address of the entrance of the school changed!). Have a good journey and see you this evening!!!
Check-In
The check-in starts at 7:15 p.m. (19:15 Uhr) at the Tesla-Oberschule (which is the sleeping location). For details, see location.html
Merchandising, 15th May 2007
There are mugs again, similar to the ones from Kiel in 2003. The number is limited to 144 red and 72 black mugs. The capacity is 0.25 l, the height is 95 mm and the ETDS 2007 logo is on the front and the back. Price: 7.50 €
We also have black towels in 30 x 50 cm with our logo in red. The towels are in high quality cotton wool. The number is limited to 50 pieces. Price: 10.00 €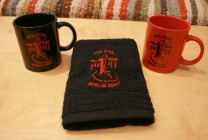 Further prices:
Water (1 l): 0.50 €
Juice (1 l): 1.50 €
Coca-Cola (1 l): 1.50 1.00 €
Sprite/Fanta (1 l): 1.50 1.00 €
Beer (Flensburger, 0.33 l): 1.50 €
Sparkling wine (Freixenet, 0.75 l): 5.00 €
Wine (bottle): 5.00 €
We are full!!! 25th April 2007
One month ahead of the tournament, we reached 500 participants. Currently we discuss if we can handle more than 500 and ask the team captains to write an email with the name of new participants to to set them onto a waiting list.
250 Participants reached, 16th March 2007
After less than three weeks, 19 teams with more than 250 participants are registered. The current participant list is available here.
T-shirt, 27th February 2007
The t-shirt is avaliable for men (as on the pictures) and women (with v-neck) and costs 12.50 €. Please order it with your registration.
The invitation is here! 26th February 2007
We proudly present...
.
© 2006-2023 Orga-Team Berlin; last modified: 02.02.2016; Author: Stefan Trippler []